Our Policies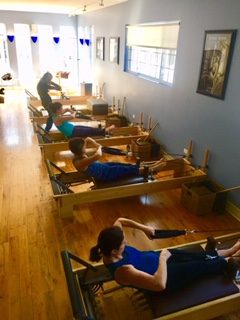 Welcome to Reach Pilates!!!!  Since 2008 we have proudly served Roscoe Village as the largest and oldest Pilates studio in the neighborhood. We look forward to having you as part of our community and providing you with the best service.
Please take a moment to create a profile within our Mind Body Online system, be sure to include your contact information and preferred method of payment. This will allow you to conveniently schedule classes online and use the Mind Body smartphone app.
For your first session please arrive a few minutes early to the studio to complete our intake form and familiarize yourself with our studio polices.
24 Hour Cancelation policy:
In honor of your time and ours, ALL group classes and private sessions must be canceled within 24 hours, regardless of reason, to avoid a late cancelation fee which is a forfeit of the class or private session.
Package Expiration:
All full priced Group Class and Private packages expire 6 months from the date of purchase.
Cell Phone Use
Please keep all cell phones on silent while in the studio. Should you need to take an emergency call during your class or session please step outside so as not to disturb others.
Thank you so much for your patronage and we look forward to working with you!!!!
Warm Regards,
The Reach Pilates Team